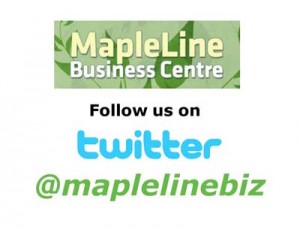 Updates and specials on Twitter at @maplelinebiz
Website: www.maplelinebusinesscentre.com
---
Location & Deliveries

Office location: Langford, BC.
Deliveries to anywhere, by cyberspace, courier or Canada Post.
---
How to Pay
All jobs require a deposit or full payment,

as will be determined upon booking your project production.

Three ways to pay:

Phone  250.217.5821 to pay by credit card.

 We take Visa and MasterCard at this time. For your security, DO NOT SEND CREDIT CARD INFORMATION BY EMAIL.
Web-banking e-transfer to this email address: info@maplelinebusinesscentre.com
Corporate cheque (inquire for postal mailing address).

MapleLine Business Centre

is a division of Brookeline Publishing House Inc. Make all payments to Brookeline Publishing House Inc.